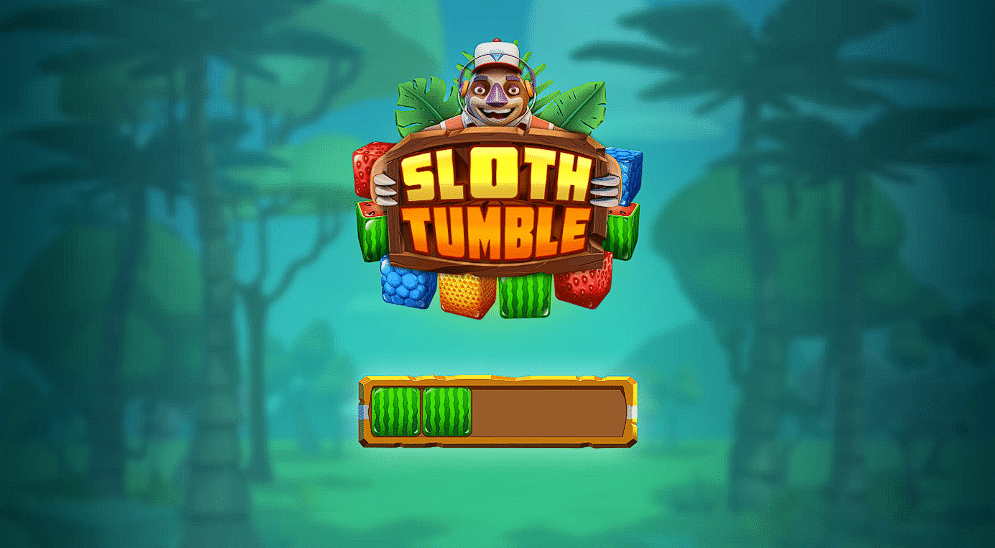 Ready to groove your way to gold with a laid-back companion? Meet Chip, the most adorable DJ-ing sloth you've ever seen, serving up fruity salads and sweet wins in Relax Gaming's latest 6×6 video slot, Sloth Tumble. With 46,656 ways to win and a max win of 100,000x for the initial bet, this little critter isn't as lazy as he looks!
Sloth Tumble: The Perks of Sloth Speed
Sloth Tumble comes with a delectable twist, offering up an immersive gameplay experience designed in collaboration with Absolutslots.com and Casino Daddy. Chip, the animated fruit sales sloth, cheers you on while spinning his favorite tunes and celebrating your wins. If you think sloths can't hustle, you're in for a big surprise.
Tumble Mechanics for Bigger Rewards
Sloth Tumble's unique Tumble Mechanics means every win holds the potential for a new one. As winning symbols vanish from the grid, new ones tumble into their place, keeping the gameplay dynamic and unpredictable. Adding to the excitement, wooden blockers disappear when they're adjacent to winning combos, opening up fresh possibilities.
Watch out for symbols with multipliers, as they can increase your wins significantly. But don't worry, this sloth knows how to keep things chill. The game's Return To Player (RTP) is a generous 96.5%, and despite being highly volatile, it promises a super relaxed and fun experience.
Bag Some Free Spins
Spinning the reels of this vibrant slot can reveal wooden symbols, which drop in with regular paying symbols. Clear all the wooden blocks in a round, and you could earn between six and 12 Free Spins. To enhance your gameplay further, reels 2, 3, 4, or 5 could transform into Wilds that span the entire reel. In addition, hitting the awarding symbol on reel 6 could also grant you additional Free Spins.
Look out for ice blocks, too. Destroy them all in a round, and you'll get another random shot at six to 12 Free Spins. In these spins, symbols with multipliers boost a progressive win multiplier when they form part of a winning formation.
In select jurisdictions, players can purchase the Free Spins round for 100x the current bet or the Super Free Spins round for a whopping 500x the bet. Super Free Spins come with a progressive multiplier that applies to the total winnings of each spin, promising even bigger rewards. Sounds like our sloth pal is serious about these spins!
A Game that's About More than Just Winning
Shelley Hannah, Director of Casino Products at Relax Gaming, was thrilled about the Sloth Tumble release, saying, "We take great pride in creating content that engages players. We're confident that Sloth Tumble will certainly be both super-chilled and extra fun!"
With its unique combination of proven tumble mechanics, an engaging theme, community-driven features, and a high win potential, Sloth Tumble delivers on its promise of feel-good fun. Get ready to hang out with Chip and enjoy a taste of the exotic. It's time to sit back, relax, and let the sloths guide you to some big wins!
About Relax Gaming
Relax Gaming is a pioneering online casino software provider that's known for its commitment to delivering immersive and high-quality gaming experiences. Since its inception, the company has consistently pushed the boundaries of innovation with a diverse portfolio of video slots, poker, and bingo games.
Relax Gaming takes pride in creating games that are engaging, fun, and user-friendly, ultimately providing players with a gaming experience that's second to none.
About Absolutslots
Absolutslots is a dynamic online gaming platform dedicated to providing a comprehensive and engaging casino experience. Offering a broad range of games, from slots to table games, Absolutslots ensures every player finds something tailored to their gaming preferences. Known for collaborating with top-tier game providers, Absolutslots has carved a niche in delivering exclusive content, personalized promotions, and unrivaled gaming fun for casino enthusiasts across the globe.